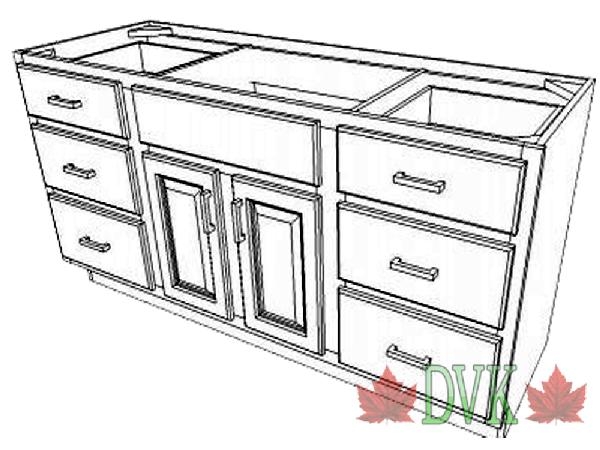 DVK provides Ready to Assemble (RTA) Kitchen Cabinets and Bathroom Vanities. RTA cabinets and vanities are compact to ship and store. These cabinets are for the do-it-yourself type of people who want to save big money.
With DVK's RTA vanities you can save a lot of money.
You also can assemble any length of vanity you want up to a Football Field Length; if you need a vanity longer than Football Field Length, please contact DVK's
Customer Support
for help.
The vanities are prefabricated in multipliers of 3 inches; DVK still has a solution if you need a vanity not a multiplier of 3 inches, by using filler that DVK will provide.
Below are some dimensions and prices that will help you estimating the cost of your vanity:
| Vanity | Price |
| --- | --- |
| VDB12 | $99.00 |
| VDB15 | $109.00 |
| VDB18 | $119.00 |
Please note that these are for drawers, as for door, you could use the sizes and prices indicated in the
Standard Vanities
Section.