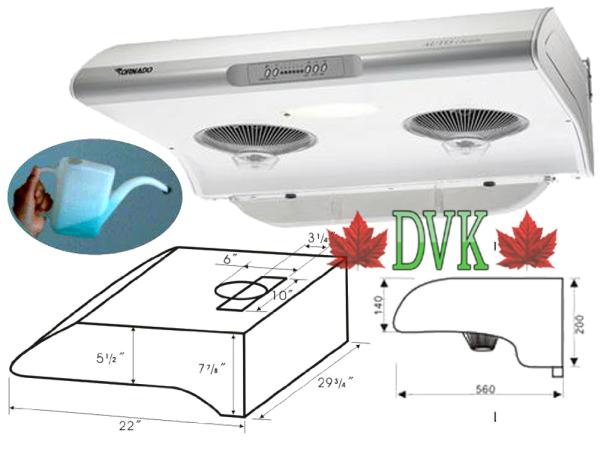 This dual blower, high performance range hood will meet your professional cooking needs, ideal for the serious home chef. Smooth surfaces and the fully enclosed bottom make cleaning easy. The grease capture system includes a grease pan and 2 guard cups, all can be quickly removed for easy clean-up. 2 ducting options (3.25 x 10" square and 6" round adapters included) allow for easier installation. Electronic touch button controls on a white panel, rounded edges and sleek design will compliment any modem decor.
1. Specially designed Hi-Speed and Ultra Quiet 6 speed motors.
2. Micro control, 6 Extraction Levels to Choose from: Level 1 or 2 are used for Steam, Stew, Braise, Simmer, Boil;
Level 3 or 4 are used for regular cooking; Level 5 or 6 are used for Deep Fry or Stir-Fry; Up too 850 CFM ventilation capacity.
3. Auto-Cleaning: Inside the range hood, a detergent tank and a small pump automatically spurt detergent on the fan when you push the Auto Clean button.
4. Teflon-Coated Fan: The fan blades are coated with Teflon, thus separating grease from the air and depositing it in removable cups for easy cleaning.
5. No Filter Required: The absence of filters enhances air delivery capacity and saves on replacement filter costs.
6. Grease Collection and Removal: The grease collection pan and cups may be removed, washed and put back. That's all!
7. Multiple Vent Styles : Vent from top with Rectangle: 3 ¼ x 10" or Round: 6".
8. Air flow 850 CFM. Max. power 248W.
9. CSA certification
Specifications:
1. Air volume: 800 ft3/min;
2. Assembled Depth: 22 inches;
3. Assembled Height: 8 inches;
4. Assembled Weight: 36 lb;
5. Assembled Width: 29.75 inches;
6. Charcoal Filter: No
7. Color/Finish: White;
8. Cooktop light(s)
9. Depth: 22 inches;
10. Duct Type: 3.25x10 or 6" Round;
11. Energy Star Compliant: No
12. Lighting Included: Yes
13. Removable Grease Filter(s): Yes
14. Vent Type: Ducted
15. Width: 30 inches.